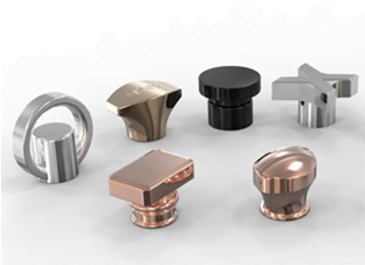 An attractive perfume cap is one of the most important aspects of perfume packaging as it defines your brand. The material, shape, and design of your perfume caps all come together to create the first impression.
That's why, at Abely, we help you to capture your customers' attention by paying special attention to every detail of the Zamac cap to make your perfume packaging even more unique, glamorous, and refined, making your perfume stand out from the dazzling shelves.

The Production Procedures of the Zamac Perfume Cap
To make a perfume bottle unique and stylish, the most direct way is to customize the perfume lid with your brand characteristics. It is not a complexity if you work with an experienced supplier partner. Normally for the zamac cap, die casting mold is a cost-effective way for mass production. The whole working steps are as below.
1. Confirm 3D drawing
Depending on whether your company opts for ODM (manufacturer's design) or OEM (customer's design) technique for perfume packaging, the design's 3D drawing is made on a computer.
2. Make mock-up/prototype if needed
After finalizing the design, we create a physical mock-up or prototype to you to check the general appearance and dimension.
3. Creating the mold
Once the OEM/ODM prototype gets the customer's green light, we move on to the sample product phase, which roughly takes 35-40 days to perfect the zamac mold and produce initial new mold cap samples for your final approval.
4. Die casting
Zamac cap is produced by die casting mold, which is a very expensive special precision machinery. High mold cost, long production cycle, and difficult to repair, mold maintenance workers have not only exquisite technology and fine style but also have a serious and responsible spirit. So preparing your project in advance and working with a reliable supplier is essential.
5. CNC lathe
Computer Numerical Control (CNC) systems allow for precise design instructions resulting in consistency throughout all units.
6. Deburring/polishing
After the die casting process, it's not uncommon for burrs to form on the surface of zamac perfume caps. These burrs are removed during the deburring /polishing step to get a smooth appearance.
7. Electroplating / Painting
Caps are electroplated to add a metal coating to give it a premium, glossy look and protect the perfume cap against corrosion. Surely, as per your needs, we could also paint the caps in any other personalized colors by painting.
8. Quality inspection
We ensure the quality through the Stringent Quality System. At Abely, we conduct Salt Spray testing, Pull testing, Adhesion testing, Abrasion Testing, and Perfume Resistance Testing to guarantee that all our products are up to standards.
Furthermore, the 3rd party inspections are welcome, like Intertek, Asia Inspection, SGS and etc.
The Features of the Zamac Perfume Cap
Zamac perfume caps adorn perfume bottles in the following ways:
1. Anti-corrosion
As a noble metal material, zinc alloy has natural advantages in corrosion resistance. After all kinds of customized surface treatment on the zamac cap, we will add an extra varnishing process to double-protect the cap from perfume corrosion. Because of its corrosiveness, the zinc alloy cover is highly collectible.
Moreover, not all zamac provides equal corrosion resistance, so at Abely, we exclusively use the purest zamac available in which the Zinc content is greater than 95%.
2. Heavyweight feeling
Any perfume cap that is heavyweight makes consumers feel like they're holding something solid and durable in their hands. Zamac perfume packaging imparts the same heaviness to the perfume cap and builds an exquisite brand image for your company.
3. Luxurious looking
Perfume packaging with zamac caps is the signature look of high-end, premium brands that aim to crown their perfume bottles with a luxurious cap. These zamac perfume caps draw in customers who love the finer things in life.
4. Symbol of status
Because the material itself is expensive and costly, zinc alloy cover is favored by high-end brands but is also a symbol of the high-end market.
Different Zamac Perfume Cap Designs
At Abely, we offer countless zamac perfume cap designs for our customers with customization options. Here are some of our top picks.
1. Roundball zamac cap
Our round ball zamac caps, like the Zamac Perfume Cap ABZ79, weigh 105 grams and feel heavy when you hold them. They look the most appealing with round, cylindrical, and square-shaped perfume bottles.
2. Animal perfume cap
When it comes to perfume packaging, animal caps allow you to use symbolism in their full capacity. At Abely, we offer different kinds of animal perfume caps, ranging from luxurious peacock heads to graceful zebra perfume caps.
3. Crown perfume cap
Our crown-shaped perfume caps, like the Zamac perfume cap ABZ68, weigh 66 grams. Because of its solid weight and richness of the crown, it suits luxury perfume brands.
4. Customized perfume cap
Besides of great range of existing zamac cap options, we could produce your own cap by creating diecasting molds. Send us your design or share your ideas. Our designer team is available here to support timely.
Conclusion
With advanced technology, state-of-the-art machinery, and equipment, our well-trained employees ensure that all products are of premium quality.
At Abely, we care about every detail in both practical functions but also aesthetics in terms of perfume packaging. Zamac has its appeal as a luxury option. We also offer other comparatively economical caps like ABS, surlyn, and acrylic.
Message us now, and you will always find a lid just for you!
About the author : ehaitech