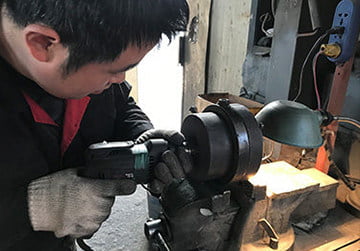 Due to requirements of custom glass perfume bottle, and its unique shape, it must be create and reviewed on the drawing before making the mold. After the feasibility of the product is confirmed, the 3D model will be made and the sample later as well. After the confirmation, it comes to the mould process, so there have something you may wanna know about the the perfume bottle mould.
Generally speaking, the bottle mould has been included below 7 steps mainly.
1. The initial mold: it is a mold that preliminarily shapes the shape of the glass bottle to be produced.
2. Complete mold: the main mold, completely shape the shape of the glass bottle.
3. Funnel: which is the first process before the glass solution falls from the automatic distributor into the initial mold.
4. Bulkhead: the bulkhead is the accessory that completes the preliminary processing and molding, after the glass solution falls into the primary mold.
5. Mouth mold: the mold for shaping the mouth of the bottle, and it's also a tool to move the glass bottle from the initial mold to the mold after the initial shaping.
6. Pumping head: which is a tool for setting the glass solution under the strong pressure of the air compressor, after the glass bottle is initially formed and moved to the mold.
7. Punch and core: the punch is a mold for shaping the mouth of a large-mouth bottle (jar). The size of the punch affects the inner diameter of the mouth. The core is a tool that affects the inner diameter of the mouth of the small glass perfume bottle.
Wanna know more about the perfume bottle production process? Come here! As the experienced perfume packaging supplier, we are ready to be your private councillor, and we have production team and engineer team to help custom your private label perfume packaging smoothly. Just contact us now!

About the author : abely